Fall is here and I am so, so excited about it. Fall isn't much of "fall" here in Florida. The weather does get significantly cooler so that's always nice. Any time the temps drop below 90 degrees, I'm a happy girl. My desire for fall is like no other. I long for it, since it's so touch and go here. Every year at the start of October I set up all of our fall décor so I can feel like the season has actually begun. I, also, love to bring fall with me everywhere I go so to keep it festive I like to keep my nails painted fall colors. The other day, while painting my nails, I had an epiphany that I should share my 6 Favorite Nail Polishes for the Fall Season. I mean, because why not?
OPI's Infinite Shine 2 – CIA = Color is Awesome 
I'm in love with this color. It's not a typical fall color you would think of but the blue green is just the perfect shade. Not quite black but definitely not a spring color. I am, also, pretty pale, thanks to my Irish decedents, which makes it extremely hard for me to pull off black polish. This is a perfect second to that. Side note: Make sure you purchase the base coat to avoid chipping!
Essie's – say it ain't soho
If you could pick any nail color that would accurately resemble fall colors, this would be it. This color just screams fall to me. It's much more matte in real life. The photo makes it look extra metallic and almost bronze-like but rest assured it is the perfect autumn orange. It is a limited time color and currently being sold at Ulta so get some while you can!
ella + mila's ELITE – Little Plum Dress
Plum, perfect for fall and perfect for winter. The best part of this color is that you can really wear it year-round. I keep this color on hand, in my "ever-growing nail polish collection" bag. It's perfect for a romantic night out, visiting the annual fall festival or even that holiday party you have coming up. You can, also, find this at Ulta!
Yves Saint Laurent La Laque Couture – Rose Abstrait
I have a serious addiction when it comes to YSL so naturally I would be on the market to try their nail polish. This is another splurge, but you really get what you pay for. *insert shrugging girl emoji* Rose is another one of those colors that you can wear all year long. It's perfect for spring but subtle enough to match any of those fall or winter colors you're wearing. Again, I typically buy this at Bloomingdale's so I don't have to pay shipping. *inserts ANOTHER shrugging girl emoji*
Tom Ford's Nail Lacquer – Scarlet Chinois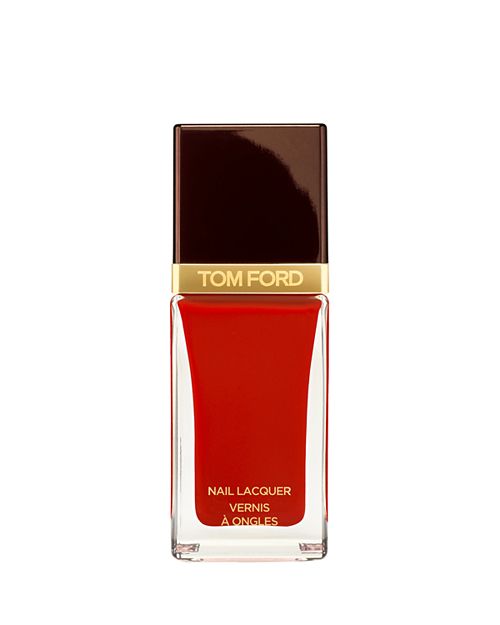 Scarlet red was made for fall, I swear. You still get that sexy red but you, also, get that tinge of orange which is perfect for fall. This nail polish is a bit of a splurge for me usually, since it runs around $22 versus my typical "spendings" of $7-15. I've, also, only be able to ever find this at Bloomingdale's but if you find it elsewhere feel free to share in the comments section.
Another year-round find, this grey polish by Sally Hansen is perfect for October. I've never been too good for Sally Hansen the older I've got. Her Quick-Dry line can be found multiple times, in multiple colors, throughout my nail polish collection. I'm a busy bee on the go so I always keep a few of those on back up should I need to throw some color on my nails while in a rush. There's hardly any down time for it to dry. This In Element color doesn't happen to be quick dry but the color is so pretty I can wait it out for a while so that it can dry perfectly! It's, also, one of the more affordable colors in my fall collection!
Don't forget – if ya'll have a favorite nail polish please share in the comments. Myself, and I'm sure some other readers, would love to hear from you!